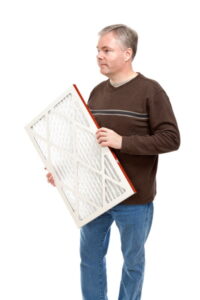 Have you ever wondered why your ac service professionals tell you to change your air filter? Perhaps you think it's a problem because a clogged air filter doesn't protect your indoor air quality. You're not wrong, however, not quite right either.
This particular air filter–the one that comes standard with your HVAC systems–isn't in place to protect your indoor air quality anyway. It's in place to protect the interior components of the HVAC system itself from dust, dirt, and other debris that can get inside and damage parts.
This air filter, depending on the type and the level of contaminants in your home, should be changed every 1-3 months. Why? We've highlighted 4 reasons below.
Reason #1: Your Comfort
Your HVAC systems' air filter might only seem like a small component, but looks can be deceiving–air filters are pretty important! This air filter stands between the intake air and your HVAC system. So, a clogged air filter will prevent air from circulating through your vents.
Essentially, you won't have the proper airflow in order to stay cool (or warm, if we're talking about your heater in the wintertime). When you notice hot or cold spots throughout the home, or if the temperature never seems to match what the thermostat says, a clogged filter may be to blame.
Reason #2: Preventing AC Leaks
Air conditioners function by absorbing heat from the air in your home. As refrigerant evaporates in the indoor evaporator coil, it is able to absorb heat from air blowing over the coil. However, when that air filter gets too clogged up, warm air is limited and this could cause the coil to freeze.
As that ice thaws, water can leak into your property, causing structural damage. A frozen coil is a definite sign of a problem, and it might be due to other problems with the air conditioner, but it's still a good practice to change the air filter as needed!
Reason #3: Lowered Energy Bills
When airflow is restricted going into your AC, then airflow is restricted going out too. This means it's going to take longer than it should for your air conditioner to actually cool your space. The longer it takes, the longer your AC runs, and the more power it eats up.
Changing the air filter on a regular basis resolves this and helps you lower your energy bills, since you'll be using the air conditioner more efficiently.
Reason #4: Prevent AC Damage
Your climate control systems were each designed to take in a certain amount of air every time they cycle. When airflow is restricted, the components of your system have to essentially work harder to do their jobs. This means you can expect exacerbated wear and tear over the season, and your AC or heater might fail you right when you need it the most.
The best thing you can do for your air conditioner is to make sure it's properly maintained, by scheduling annual professional tune-ups, but also by changing the air filter as needed!
Hometown Heating and Air Conditioning is your trusted resource for professional air conditioning service in Concord and beyond. Contact us today!