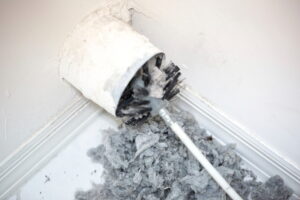 One of the most common complaints homeowners make about their indoor air quality is a stuffy or muggy feeling–particularly when temperatures have been as warm as they've been lately.
Now, there are a lot of factors that contribute to this. First off, it may simply be an extraordinarily humid day. Relative humidity levels above 50% are considered to be beyond comfortable. A whole-house dehumidifier is one home comfort system that will help with this issue.
Another thing that happens with that humidity though, is that it creates a cool, damp environment inside your ductwork. This leads to the growth of mildew, not to mention the accumulation of dust and other debris as it moves through the ventilation system and gets stuck inside. As you can imagine, over the years this will lead to quite a nasty situation inside your ducts. And this is where professional duct cleaning comes in!