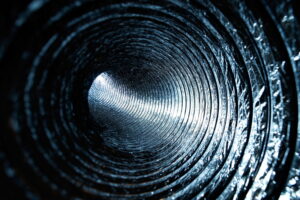 If you're like the average homeowner, you probably don't give too much thought to the ductwork snaking its way through your home. This makes sense, after all, air ducts are mostly hidden from view. You really shouldn't need to think too much about the condition of your ductwork all that much, but occasionally, your ducts will need some TLC.
While there's no need for you to learn about all the ins and outs of ductwork, there are a few things that would be good for you to know, such as the impact that dirty ducts can have on your home comfort and on your air conditioning and heating systems.
Professional duct cleaning, performed by our team, is very beneficial. Wondering why? Read on!
Duct Cleaning Improves Indoor Air Quality
The primary reason homeowners have professional duct cleaning done is to improve the quality of their indoor air. Yes, your HVAC systems do have an air filter. And yes, you may even have additional IAQ products in place to protect and improve your home's air quality. However, these filters and other indoor air quality products are installed at the return duct, where air first enters the system, while the rest of your air ducts remain largely unprotected.
Debris such as allergens and dust, plus germs and other irritants, can infiltrate your ductwork by other means–through cracks in the air ducts themselves, through the vents, or just from years of sitting untouched. Professional duct cleaning requires a professional technician to completely eliminate this dirt, using special tools, which means that allergens and germs are less likely to make it back into your living space.
Duct Cleaning Helps HVAC System Performance
All of the dirt and debris that's likely sitting in your ductwork right now could very well be interfering with the performance of your air conditioner or heating system. The most efficient HVAC systems cool or heat the air, and then blow it back into the rooms of your home via your ductwork. So when that ductwork is dirty, it can cause friction and resistance that slows down the air.
If your ductwork is too dirty, you could be paying more for heating and air conditioning than you should be. Worse than that, there's a good chance that your air ducts have major leaks, and you could use a professional to assess whether any part of your air ducts actually needs replacement, which can be conducted during your cleaning appointment.
"What Else Should I Know?"
Unlike annual maintenance, duct cleaning isn't needed that often. You can probably go a few years in between services before the buildup of dust creates a huge problem for you.
That said, be sure you're trusting a reputable company if you're told you need duct cleaning! There are, unfortunately, dishonest "professionals" out there who will sell you a service you don't need and won't be as thorough as a true professional who has the right tools and expertise, as well as the knowledge of how to complete this service without damaging your ducts.
For professional and reliable duct cleaning in Concord, CA, look no further than Hometown Heating & Air Conditioning. Contact us today!