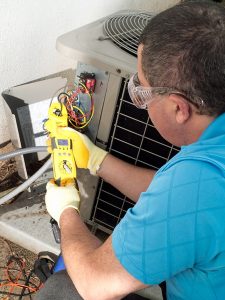 Fall is officially here! It's time to turn off our air conditioners and not worry about them until next spring, right?!
Well, not quite. Temperatures don't always agree with whatever season it happens to be at the time. Still though, there's no arguing that in the next several weeks, we will be able to use our air conditioners a lot less. So, that means you can wait on any repair needs that have cropped up, right?
No! At least, we don't recommend it. The longer you wait to address an air conditioner in disrepair, the higher chance there is that you'll experience severe HVAC problems. This is particularly true if your AC system shares ductwork with the furnace or if you're using a heat pump, since that means your heating efficacy can be impacted too.
Even though it's late in the cooling system, it's a good idea to watch for the signs of AC problems we've listed below, and give our team a call if you notice any of them.