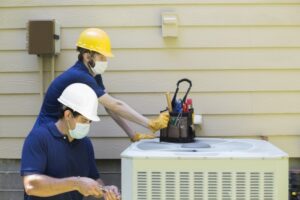 With temperatures already warming up (with the exception of a few chilly days last week) you may have come to realize that it's time to start thinking about whether your air conditioner is ready for summer. Or, maybe you think since your cooling system seems to be working okay, you can skip maintenance just this one year. We really want to discourage you from skipping, though!
It's never too late to get your air conditioner maintained, and it's never a bad idea to do so. In fact, there are a number of great benefits to having routine, professional maintenance done.
Scheduling Maintenance Each Year
Professional AC maintenance is something that every cooling system needs on a regular basis. And "regular" is the keyword here. Generally speaking, we do recommend cooling system maintenance be done in the spring, before you need the system the most. So now is the perfect time to schedule this service.
But frequency and consistency are more important than timing. That said, we suggest that you have air conditioner maintenance done once a year, or if you have a year-round heat pump system, once every 6 months. There are many reasons we recommend this, including:
Summer Doesn't Take a Holiday: Our winters may get pretty cold, relatively speaking, but our summers are pretty darn warm and humid! No matter what, you will need a reliable air conditioner this summer, and maintenance helps ensure that's what you get.
Skipping Maintenance Means Higher Energy Bills: Generally speaking, every year that your air conditioning system goes without professional maintenance, it drops about 5% of its efficiency, and this decline gets steeper over the years. You'll very likely find yourself paying more for the times your AC is running longer than it should need to in order to keep your home cool.
Avoid Emergency Air Conditioning Repairs: Maybe the biggest reason you need to stay on top of your routine AC maintenance appointments is to prevent your air conditioner from breaking down all of the sudden on one of the hottest days of the year. There are plenty of those coming, as you well know! Your cooling system should be able to handle it.
Prevent Unnecessary Repair Needs: Avoiding costly emergencies isn't just good for your budget, it's good for the system itself. Maintenance is a precautionary step that homeowners make, and it can help you avoid up to 85% of the repairs an air conditioner might ever need in its lifespan. Not to mention, the less wear and tear on the system, the longer that system will last.
Save Money: Having your air conditioner professionally cleaned during maintenance helps keep it operating as efficiently as possible. Alerting you to repair needs now helps you avoid costly emergency repairs later, and overall this maintenance helps improve the lifespan, as we mentioned above. So, this means you'll end up paying less over the lifespan of your system, as long as you keep up on your maintenance appointments.
Contact Hometown Heating and Air Conditioning today for quality service for your air conditioning in Concord, CA.