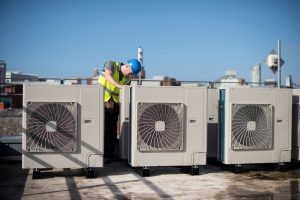 One of the common questions we hear our customers ask is, "what makes a commercial HVAC contractor different from a residential HVAC contractor?" After all, their job functions are essentially the same… right?
Well–not quite. There are HVAC contractors who specialize only in residential heating, cooling, and ventilation, and they're amazing at their jobs! But, those who specialize in commercial HVAC services are different. We're also different from a general commercial handyman too, who can do basic tasks for your building's plumbing and electrical systems, and some simple HVAC tasks like changing out air filters.
The fact of the matter is, if you have commercial HVAC service needs, then you want a commercial HVAC service provider for the job! Read on as we explain why.