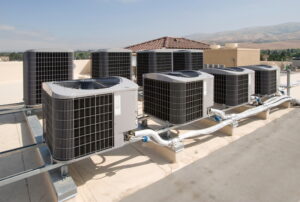 Whether you manage a business or you own an entire commercial property, there's probably a lot that's on your mind as we enter a new year. We're going to guess, too, that it has to do with business tasks… and not taking care of your building's climate control systems.
But taking care of these systems absolutely should be on your mind, otherwise, you could find yourself facing a number of problems, not excluding a business interruption because you couldn't keep your commercial space comfortable for employees, tenants, or customers. Read on as we share some top care tips for commercial HVAC systems.
Maintenance!
This is the first thing we're going to mention because it's so important. Annual maintenance isn't just something that's reserved for residential air conditioners and heaters, it is very much necessary for commercial cooling and heating systems too.
Maintenance allows our technicians to fully inspect, clean, and adjust the components that need it within your commercial heater, to make sure it works as powerfully and efficiently as possible, for as long as possible.
It also helps us spot repair needs so we can alert you or your building manager to it right away. Managing repair needs as they come up, instead of waiting for them to grow into bigger problems, means that you're far less likely to experience a business interruption from a broken-down heater.
Repairs
As we mentioned, maintenance will help alert us to repair needs. Of course, there is still a chance that commercial heater repair needs will crop up from time to time between maintenance visits. So, it's important that you know the signs that repairs are imminent, too.
Cool or Lukewarm Air Is Coming From the Vents
Have you, or guests or employees, noticed that instead of powerful, warm air, your vents are sending out lukewarm or even cold air? This could point to a thermostat malfunction, so this should be checked first. But in the absence of that, our professionals should be called so we can inspect and see what's going on.
Even if the problem seems to be isolated to one vent or one area of the building, it could have a domino effect on the rest of the system, creating more problems later on.
Spike in the Energy Bills
We're going to guess that changes to your commercial energy bills likely go unnoticed, especially depending on how large your company is and how high your overhead costs usually run. But we really do encourage you to take a good hard look at your energy costs this time of the year.
Have they increased dramatically over this same time last year? If the weather hasn't accounted for this contrast in use, and if there isn't a higher demand on the heater, then there is a good chance that your heating system simply isn't working as efficiently or effectively as it once was.
For expert service on your commercial HVAC in Martinez, CA, look no further than Hometown Heating & Air Conditioning. Contact us today!