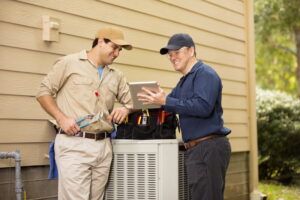 With heat waves here and more expected this summer, now is the time to make sure that your air conditioner is in great shape and able to handle any hot temperatures that come its way.
Hopefully, you've already had springtime maintenance done for your air conditioner. Maintenance allows our technicians to comprehensively inspect, clean, and adjust the components that need it. All of this helps your air conditioner operate as efficiently and effectively as possible, for as long as possible.
Maintenance tune-ups prevent up to 85% of repair needs, helps your system retain up to 95% of its original efficiency rating throughout its lifetime, and helps ensure that your air conditioner can actually last its intended lifespan (10-15 years).
The good news is, it's not too late to schedule this service! This is definitely a case of "better late than never." In the meantime, it's always a good idea to be aware of what noises are abnormal when your AC is running. If you hear any of these, whether you skipped maintenance or are diligent about having it done annually, it's time to give us a call for repairs!