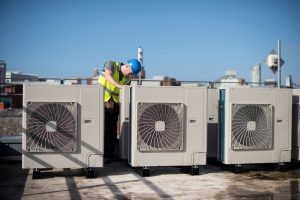 One of the common questions we hear our customers ask is, "what makes a commercial HVAC contractor different from a residential HVAC contractor?" After all, their job functions are essentially the same… right?
Well–not quite. There are HVAC contractors who specialize only in residential heating, cooling, and ventilation, and they're amazing at their jobs! But, those who specialize in commercial HVAC services are different. We're also different from a general commercial handyman too, who can do basic tasks for your building's plumbing and electrical systems, and some simple HVAC tasks like changing out air filters.
The fact of the matter is, if you have commercial HVAC service needs, then you want a commercial HVAC service provider for the job! Read on as we explain why.
How Commercial HVAC Systems Differ from Residential Services
There's a common mistake people make, and it's that they assume commercial HVAC systems are more or less the same as residential systems. But the differences are a lot more extensive than simply being bigger and more powerful units.
Commercial HVAC systems are going to have different requirements as far as temperature control and capacity are concerned. The right temperature control is necessary to keep your employees, tenants, customers, or guests both comfortable and healthy, and/or to keep stored products and computer rooms cool enough.
In addition, if we're talking about a commercial building that houses office space on multiple floors, we have to take into account that heat rises, and therefore commercial cooling systems have to be correctly zoned for optimal comfort. And it goes beyond this, too. if you have a system breakdown, it's not just a family or household you need to worry about, you could end up with a pretty significant business interruption, and have a negative impact on your bottom line.
Inexperience is simply not an option when it comes to commercial HVAC, and your commercial HVAC professionals should provide:
A Quick Response
When it comes to residential cooling or heating repair needs, you can probably afford to sit tight for a day or two until a technician can get to you. But this isn't an option in most commercial settings. You need a repair professional who will be able to respond quickly and work fast, and one who is prepared to operate around your workday.
Expertise
Commercial HVAC systems can include anything from walk-in freezers and wine coolers to computer room cooling systems, and more. These pieces of equipment require very precise temperature needs and the right commercial HVAC contractor will have the experience and training to deal with this.
Commercial Indoor Air Quality Experience
"Indoor air quality" isn't simply just about the temperature of a space. It's about the level of contaminants in the air, the humidity of the space, and more. In a home, this means getting the right balance of air purification, humidification, and potentially looking into a heat or energy recovery ventilator.
In a commercial building, it's even more of a complex job to do all this balancing, but that's what our team is here for! We have the commercial HVAC and indoor air quality experience needed to ensure that your commercial space or business is as comfortable and healthy as possible.
Hometown Heating and Air Conditioning is your trusted resource for commercial HVAC in Livermore. Contact us today!