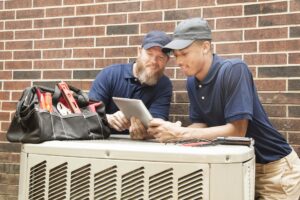 When it's time to install a new air conditioner in your home, you want to get the best deal possible. However, the best deal doesn't always mean getting the cheapest air conditioner you can find. You get what you pay for, and that can be good or bad depending on how you look at it.
If you've been searching for 'AC installation near me,' you landed in the right place. Our team are the local experts at air conditioning installation and would love to help you with an upgrade. You can keep reading to learn more about how to be smart when shopping around for a new air conditioner and make the best investment. After all, the upfront cost is not the only thing to consider when buying an air conditioner.
Check for Incentives
Your local, state, and even the federal government may have incentives in place for particular types of air conditioners. Do some research to find out what rebates are available and then contact our team to see what your options are if you're trying to qualify for tax rebates.
We can help you make sure that you have all of the proper paperwork to file for the rebate when tax season rolls around again. Keep in mind that you'll still be spending the full cost up front for the installation, although you enjoy the benefit of a rebate on your 2023 taxes.
Make a Wise Purchase Decision
Most of the time when people think about saving money, they think about spending less on a purchase. But when it comes to air conditioning, there are more ways to save. Getting the cheapest air conditioner possible does not mean that you are making a smart purchase decision. Usually the most energy efficient air conditioners cost more up front for installation.
You may be wondering how it qualifies as saving if you're spending more. However, when you consider that a more efficient air conditioner will cost you less for energy use over the life of the system, the savings can add up quickly. If you save just $50 per month on energy costs, that is $600 per year. After 10 years, you've saved $6,000. If you compare this to the difference in cost for choosing a more efficient air conditioner, you're saving more over the life of the unit.
Care for Your Investment
When you take excellent care of your air conditioner, it is going to last longer. No matter what type of air conditioner you decide to install, be sure to keep up with annual maintenance. A typical central air conditioner requires annual maintenance once each year. A heat pump requires maintenance twice per year since it also operates as a heater.
Scheduling this maintenance consistently year after year is the best way to take care of your heater after it is installed. The longer that your AC lasts, the more you're getting out of that initial installation investment. Plus maintenance is also an opportunity to maintain energy efficiency so that your air conditioner continues to save you money on energy costs.
Hometown Heating and Air Conditioning is your trusted resource for AC maintenance. Schedule an appointment with us today! Your comfort is our business.