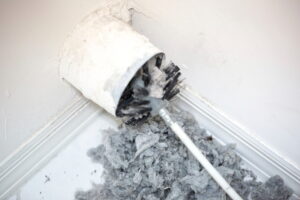 If you're anything like the average homeowner, you probably don't think too much about the air ducts running their way through your home. This makes sense–after all, ductwork is hidden from view for a reason. You really shouldn't have to think about the condition of your air ducts too often. But every once in a while, they do need some attention. While you don't need to know all the ins and outs of your ductwork, there are a few things we'd like to share with you about how dirty ductwork can impact your indoor air quality.
Professional duct cleaning is a method to clear out your ductwork, which has air moving through it each and every day you use either your air conditioner or your heating system. Overall, if you're wondering if duct cleaning is worth it, the answer is yes. Read on to learn why!
Improving Indoor Air Quality
The number one reason homeowners often choose to invest in professional duct cleaning is to improve their indoor air quality (IAQ). Yes, it's true–your HVAC systems are equipped with an air filter. You may even have additional IAQ products and services in place as well to help with air quality.
But first off, the air filter in your HVAC systems is there to protect the systems themselves, not your air quality. And your other indoor air quality products are placed at the return duct, where air first enters the system, meaning that the remainder of your ductwork remains unprotected.
Particles such as allergens, dirt and debris, irritants, and germs can infiltrate your air ducts by other means–through cracks in the ductwork itself, through your vents, or just from years of sitting untouched. Professional duct cleaning requires a professional technician to completely suck out the dirt, which means that allergens and germs are less likely to make their way back into the home.
Your HVAC Equipment Will Work Better
All of the dirt and debris that's likely in your ductwork right now may be interfering with the overall performance of your forced-air cooling and heating systems. The most efficient HVAC systems cool or heat the air, then blow it back out into your living space via the most direct route–your ductwork. Dirty ductwork can create resistance through friction, which slows down the air movement.
Basically, if there's too much dirt in your air ducts, you might be paying more for your heating and air conditioning needs than you should have to. Even worse, there's a good chance that your air ducts have leaks, and you could use a professional HVAC contractor to assess whether any portion of your air ducts needs repair or replacement.
Why You Should Hire an HVAC Pro
You may see ads for companies that do just duct cleaning, and we are sure there are reputable companies out there. However, using a trained, licensed, and experienced HVAC pro means you'll be getting comprehensive service. We don't just clean your ducts and call it a day–we're here for whatever heating or air conditioning needs you might have.
To schedule professional duct cleaning in Concord, CA , contact Hometown Heating & Air Conditioning!