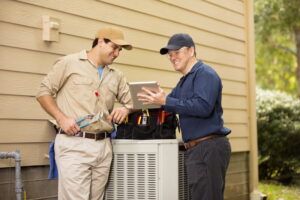 With heat waves here and more expected this summer, now is the time to make sure that your air conditioner is in great shape and able to handle any hot temperatures that come its way.
Hopefully, you've already had springtime maintenance done for your air conditioner. Maintenance allows our technicians to comprehensively inspect, clean, and adjust the components that need it. All of this helps your air conditioner operate as efficiently and effectively as possible, for as long as possible.
Maintenance tune-ups prevent up to 85% of repair needs, helps your system retain up to 95% of its original efficiency rating throughout its lifetime, and helps ensure that your air conditioner can actually last its intended lifespan (10-15 years).
The good news is, it's not too late to schedule this service! This is definitely a case of "better late than never." In the meantime, it's always a good idea to be aware of what noises are abnormal when your AC is running. If you hear any of these, whether you skipped maintenance or are diligent about having it done annually, it's time to give us a call for repairs!
Shrieking/Screeching
There is some good news, and bad news, here.
The good news is that this sound is actually a sign of expected and natural wear and tear. You're likely to hear this noise if a motor bearing or multiple motor bearings have started to lose lubrication and create friction. Relubricating these components is an easy "fix" for our team, so the sooner you call us the better.
The bad news is that if you wait too long, you could be in for a much bigger repair need. The reason for this is that allowing friction to go on for too long can cause the motor to burn out, and therefore your air conditioner to break down. This is definitely not something you want to happen this time of year!
Hissing/Bubbling
Depending on where exactly the sound is coming from, you may hear either hissing or bubbling coming from the refrigerant line if there is a leak. Refrigerant is the chemical substance that alternates between liquid and gas form and makes the cooling process actually possible.
Upon manufacturing, your air conditioner is supplied with enough refrigerant to ideally last its entire lifespan. However, it's possible that a leak can occur–especially in an aging system. A refrigerant leak can lead to a number of subsequent problems, so it's important to have it fixed right away.
Banging/Clanging
This is definitely not a sound you want to ignore, and likely is a sound that's impossible to ignore! A banging or clanging coming from your air conditioner very likely means that a component has become loose and is banging around the system. This can cause a bit of a "domino" effect inside your air conditioner and damage the rest of the system. Please give us a call right away if you discover this alarming noise!
Hometown Heating and Air Conditioning is your trusted resource for quality AC repair in Brentwood, CA and beyond. Contact us today, your comfort is our business!