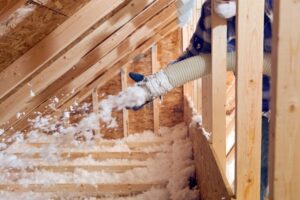 If you're like the average homeowner, you probably associate insulation with cold weather, right? We don't blame you if you do! After all, it's wintertime when we want and need to be protected from the cold, and more insulation will help you get that protection. While it may not get as bitterly cold here as it does in other parts of the country, we want to stay warm too!
Insulation is about more than protecting you from the cold, though. It actually benefits your comfort just as much in the summertime as it does during the winter. This is because the job of insulation is to block heat transfer, whether in or out. Read on to learn more!
All About Heat Transfer
As we mentioned above, while insulation certainly does benefit homeowners during the winter, its purpose is to actually prevent heat transfer.
In our warmer climate, the ability to prevent the unwanted transfer of heat into your home can be even more important than preventing it from going out. Either way you consider it, if you do not have adequate insulation installed in your home, heat transfer will happen. As a result, your air conditioner won't be able to work as efficiently as it's meant to, because you'll be trying to adjust your thermostat lower than you should need to.
"So, What Kind of Insulation Is Best?"
Blown-in insulation is the insulation of choice for many homeowners throughout Concord and the surrounding communities. It's a very efficient type of insulation, performing up to 45% better than roll-out fiberglass insulation. Plus, it's easier for installers to put in, meaning that there is minimal disruption to your property or your time.
Blown-in insulation can help you use both of your HVAC systems more efficiently, save you money, and can help you improve the environment!
Wait, you might be wondering, improve the environment?
Yes! The Department of Energy cites insulating your home's attic as one of the most important energy-saving projects you can do in your home. The reason for this is that the energy you save won't need to be produced by power plants, which means a reduction in pollution that may otherwise harm the ecosystem. Insulating your attic helps your comfort, indoor air quality, and the ecosystem.
The last benefit, although certainly not the least important, is that an adequately insulated attic and home prevents long-term moisture damage. When an attic is not insulated properly, the rising heat from your furnace can lead to moisture development, which can slowly but surely damage your property–or and least contribute to the growth of mold and mildew. Keep your home comfortable, but also healthy, by investing in the proper insulation. We are here to help!
Please don't hesitate to reach out to us with any insulation questions you might have, and also any questions you have about improving your overall home and AC efficiency.
Hometown Heating and Air Conditioning is the company to call when you need professional insulation services in Concord, CA. Your Comfort Is Our Business!