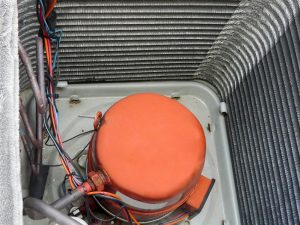 This doesn't have a quick or easy answer, to be honest. But we'll do our best to cover all the bases on what happens when you have a failed compressor.
It's a particularly unpleasant problem to face, a failed compressor, as this component is essentially the heart of your air conditioner. Your air conditioner literally cannot do the very job it was designed to do without this component–which is to transfer and compress refrigerant in order to return cooled air into your home.
With most components, replacement is the best option. But the thing is, because of the compressor's importance, it's the most expensive component in your AC. In many cases, if it fails, it makes more economic sense to replace the whole entire air conditioner. But that's not always the case. We get it, that's frustrating. Read on to gain a little clarity on the matter!
When You Should Replace Just the Compressor
It seems like replacing just the compressor would be the easiest and quickest option, right? And it is, but it's not always the most affordable or the best option!
If your cooling system is still under warranty (this means typically that it's less than a decade old), then compressor replacement makes sense, because you won't be financially responsible for the component itself–just the labor to have it installed.
In most situations, however, when a compressor fails it's because the air conditioner is old and far past its warranty coverage. Busted compressors typically occur when a unit is 15 years old or more. In this case, you'll need to weigh your options.
What If You Replace the Outdoor AC Unit?
If your indoor unit is fine, couldn't you just replace the outdoor unit altogether, which includes the compressor? Yes, you can! But age plays a factor here as well. First off, R-22 refrigerant, which has traditionally been used in air conditioners until now, has been phased out as of January 2020.
If your current system is still using this refrigerant, you can't hodge-podge together an entire AC system from two main components and hope it will operate as efficiently as it's meant to. Even without the refrigerant factor, if the system is too old, the indoor unit may fail before you've had a chance to get much use from the outside condenser, leading to a premature HVAC system replacement anyway.
Replacing the Whole System
Like we said above, this is usually the best option. Modern air conditioners have come a long way with efficiency, power, and even how quietly they run. Your utility bills can see quite the decline with the installation of a new air conditioner, plus you and your family can be more comfortable!
Not only that, but you may even consider a different type of AC model for even greater benefits. For instance, just because you've always used a ducted central air conditioner doesn't mean you wouldn't benefit from a year-round ductless system that could help you replace your aging furnace, too!
For quality air conditioning repair in Concord, CA, contact Hometown Heating and Air Conditioning. Your Comfort Is Our Business!