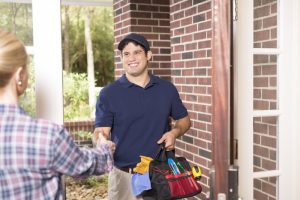 These days, you can find a lot of people who would be willing to do HVAC work in your home. Unfortunately, that doesn't mean that the professional you find will actually have the expertise and experience necessary to do a good job. We really don't recommend putting the wellbeing of your HVAC system and the comfort of your home in the hands of amateurs.
Of course, it's fine to say this, but what should you do then? When you need HVAC work, it's understandable that you want to find someone affordable and reliable. But what other qualities should you look for?
We've provided a bit of a guide below to answer just that–what 4 qualities you should look for in a professional HVAC contractor. Read on, and please reach out to our team if you have any questions–we want your HVAC system and your home to be in good hands!
They Offer Comprehensive Services
You can probably do a quick internet search and find plenty of companies that offer air conditioner sales and installation. But what happens when the installation is done poorly, or when you need to schedule routine maintenance? You may not get the same professionals who installed the system to keep up with its repairs and service needs.
If you choose one of these companies or professionals, then you'll only have to go through this process of finding a reputable HVAC company all over again when you need a tune-up or repair. Technicians who offer comprehensive services–installation and replacement in addition to repair and maintenance–have seen it all and can not only keep your AC working at its best, but make recommendations to further improve your home comfort.
They Have Proper Certification
Is your contractor NATE-certified? NATE stands for North American Technician Excellence and is the most widely recognized certification in the HVAC industry.
Not every company hires NATE-certified professionals, however. It's actually not required to work in the field. But hiring a contractor with NATE-certified technicians means you know you're getting workers who have studied and gotten hands-on experience in a variety of HVAC service tasks, and they've had to pass rigorous tests to prove their qualifications in the field.
They're Around When You Need Them
Have you ever heard of an HVAC emergency that happened at a convenient time? Yeah, neither have we. You should never just have to "tough it out" if you have an AC failure on a Saturday or a heating system failure on a cold winter night after normal business hours have ended.
When a contractor offers emergency services, it means they care about the people in their community and understand their comfort needs. Look for a contractor who will be there when you need them, whenever you need them!
They Have a Cost-Saving Maintenance Program
Maintenance is essential to keeping HVAC systems in good shape. During maintenance tune-ups, our technicians thoroughly inspect and clean the HVAC system, making adjustments along the way, and checking for repair needs too. Contractors who offer maintenance programs also provide discounts for their members to help them save even more money.
Ask About Our Star Performance Membership Maintenance Program
In addition to an efficiently and effectively operating air conditioner or heater, our membership maintenance program affords members:
Priority booking
Emergency services in 24 hours
$40 off diagnostic service calls
20% off repairs
5% savings on new equipment or indoor air quality purchases
We also provide Star Rewards, which can be used for IAQ and Smart Home product purchases!
To find a professional HVAC contractor for your air conditioning service in Concord, CA, look no further than Hometown heating and Air Conditioning. Contact us today for expert service or to sign up for our Star Performance Membership Maintenance Program.