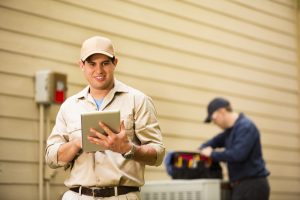 No matter the time of year or what's going on in the world, you deserve to be comfortable in your home. A big contributor to that comfort is your HVAC system. Is your air conditioner in good shape?
This is the time of year we recommend a spring tune-up for your system! Just like maintenance for your vehicle, routine air conditioning maintenance is essential to the performance of the cooling system, and important to preventing huge repair needs. Read on to learn more!
What Maintenance Does
Maintenance enables our service professionals to come in and very thoroughly clean the interior components of your system—whether it be your air conditioner in the spring or your heater in the fall—in order to make sure it is able to perform as efficiently as possible. Additionally, we inspect the air conditioner and check for components that need adjusting, repair, or even replacement.
Overall, maintenance serves to improve the performance and longevity of your air conditioning system, and we really cannot understate the importance of this service.
Now Is the Best Time to Schedule a Tune-Up!
Generally speaking, we advise that our customers schedule an air conditioner tune-up right before they need the system the most. This would put you in early spring—so right now.
Of course, the time of year is actually less important than the frequency in which you have maintenance done. You should be getting air conditioner tune-ups at least once a year… twice a year if you have a two-in-one heat pump HVAC system.
Since we do live in an area that seriously stresses out our cooling systems, you might even consider having yours checked out more often. But in order to maintain your manufacturer's warranty, once annually is sufficient.
Improve Your Home Comfort, and Your Safety
One of the biggest reasons to invest in annual maintenance is to maintain your comfort and the comfort of your household. Over the years, AC systems start performing less and less effectively and efficiently. The components begin wearing down due to natural wear and tear. This is akin to what would happen in your car if you skipped auto maintenance.
Professional air conditioning tune-ups help keep you safe, as well. This isn't to say air conditioners are dangerous—they aren't by nature. However, there are components within the air conditioner that could be harmful, if you were to try to attempt AC maintenance on your own or have an amateur perform the service.
For example, refrigerant is the chemical that makes the cooling process possible. If you have a leak, the refrigerant is harmful to not only your air conditioning system but to anyone who comes in contact with it, as well. You're less likely to have a problem like this, however, if you keep up on maintenance.
Ask About Our Star Performance Membership Maintenance Program!
When you become a Star Performance member, not only do you get all the benefits of maintenance in general, you also get priority service, emergency services within 24 hours, discounts on diagnostics and repairs, and even savings on new equipment. Curious? Just reach out to our team to learn more.
To schedule your Concord, CA AC maintenance today, contact Hometown Heating and Air Conditioning!