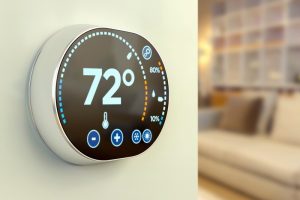 Chances are, you have at least heard of smart thermostats by now, even if you've never had one in your own home. But do you know all the great benefits of having one?
Upgrading to a Wi-Fi or smart thermostat is a great choice for just about any homeowner! We want you to know why. Read on as we go over some of the best things about these thermostats. We'll let you know about a couple of the best options for smart thermostats that you can have professionally installed.
What a Smart Thermostat Can Do
So what exactly is it that makes a smart thermostat so different from a dial or even basic digital thermostat? Well, there are a couple of things—read on!
Reduced Energy Use: Smart thermostats help you use less energy since you can program them to run at a lower setting while nobody is home or while your family is sleeping, versus not running the air conditioner at all. This makes it easier to keep your living space comfortable once you return, and reduces the amount of energy you use while away.
Lets You Track Your Use: A smart thermostat can track the amount of energy you use, and provides you with accurate measurements so you can detect inefficiencies to improve your energy use and comfort!
Can be Controlled Remotely: One of the biggest benefits of a smart thermostat is that you can control it from an app on your phone, wherever you're at. So if you need to adjust your home's temperature because you're on your way home from work early, or you're on vacation and want to run before you get home, you can do so quite easily.
Learns From Your Preferences: After you've been using your smart thermostat for a while, it will start learning your patterns for heating and cooling your home. This means it will automatically adjust itself to your ideal settings based on the temperature, season, and time of day.
Know Your Options
Are you interested in a smart thermostat for your home? So long as you have a professional like the ones on our team do the installation, you'll be in great shape. First, you'll want to choose which smart thermostat you want to be installed.
Google Nest: The Google Next learning thermostat looks at your patterns and starts programming itself. It can be controlled remotely from your phone or via commands to your smart home assistant like Alexa or Google Assistant.
Ecobee Smart Thermostat: This thermostat also learns your patterns and offers the ability to respond to voice commands.
A smart thermostat is a great investment for any home but should be installed by a professional. Improper thermostat placement can lead to inefficiencies that not even the best thermostat can overcome. Be sure to talk to a pro today about your thermostat options!
For smart home installation in Concord, CA, look no further than Hometown Heating and Air Conditioning. Contact us today!