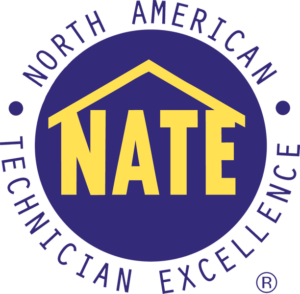 When your home needs air conditioning service, you can't rely on just anyone. There are a lot of factors to take into consideration when choosing an HVAC company to handle your precious home comfort systems. Many homeowners know that they should choose an HVAC contractor whose technicians are licensed and insured. But what other qualifications should you look for?
In your search for qualified air conditioning technicians, you may come across the terms "NATE certified" and "EPA certified." Having these qualifications is very desirable and we're not just saying that because we have a full staff of NATE and EPA-certified technicians. Let's look at what these designations mean and why they're surefire signs you've found a knowledgeable and reliable company.
What Is NATE Certification?
NATE stands for North American Technician Excellence. NATE is the largest non-profit heating, ventilation, air conditioning, and refrigeration (HVACR) organization in the US. Homeowners who hire NATE-certified technicians can rest assured that a well-trained and highly experienced technician will be servicing their HVAC system. In fact, the goal of NATE is for homeowners to feel confident about their technician's skill level.
What Is Required for NATE Certification?
For technicians to become NATE-certified, they must have 2 full years of HVAC experience in the field. They must also pass a rigorous series of exams. These exams are created by a nationwide committee of HVAC experts who draw from their own real-world experience in developing the exams. If a technician passes all the exams with a score of 70% or higher, they become NATE-certified.
Not only that, but NATE certification only lasts for two years. As the 2-year mark approaches, the technician is required to complete continuing education or re-take a specialty exam to maintain their certification. This ensures that their skills are up to date and that they possess a demonstrated knowledge of today's increasingly sophisticated HVAC systems.
What Is EPA Certification?
For this certification, EPA stands for the Environmental Protection Agency. As you can probably guess, this type of certification has to do with the environment and adherence to eco-friendly HVAC practices. To become EPA-certified, a technician must demonstrate knowledge about the laws, rules, and regulations surrounding the use and handling of HVAC chemicals such as refrigerants and ozone-depleting chemicals.
What Is Required for EPA Certification?
The requirements for earning EPA certification depend on the certification type, but all require a core test and one specific certification test. The core test addresses the general principles of HVAC and the reasons for industry regulations.
Why Is EPA certification important?
The chemicals used in systems such as heat pumps and air conditioners are hazardous. You don't want someone who isn't certified to handle chemicals such as these working on your AC without the proper qualifications. You also want to make sure you've hired someone who knows how to safely and legally handle and dispose of these chemicals in ways that align with EPA rules and regulations.
You can rely on the expertise of our EPA- and NATE-certified technicians for your next AC repair or installation.
Hometown Heating and Air Conditioning is your trusted resource for air conditioning services. Reach out to us today! Your comfort is our business.