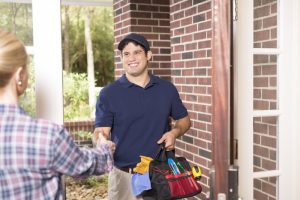 Purchasing a new air conditioning system for your home is a major investment. As homeowners, it's only natural to want to save money. When estimating how much it'll cost for an air conditioning installation, you might be tempted to hire an amateur to do the job. You might even be thinking that this is a possible do-it-yourself project. However, we're here to tell you why these are bad ideas.
Air conditioners require licensed professionals with training and experience to install them properly. A well-intentioned desire to reduce expenses will definitely end up costing you more in the long run. There's a reason why air conditioning systems require licensed and trained professionals to install them.
You spend so much on a new air conditioner. You shouldn't do anything that would jeopardize that initial investment. By not having it installed by a professional HVAC company, you run the risk of voiding the warranty. Here are 3 benefits of professional air conditioning installation.
1. A Sound Investment in Your Home Comfort
When you purchase a new air conditioning system, you're doing more than just getting a new cooler added to your home. You're setting the tone for your AC's service life and operational efficiency for years to come.
With this in mind, it is easy to understand why it's imperative to hire a professional for the installation. From getting the new system hooked up and connected to your ductwork, to making sure it's properly sized, you can trust a trained technician who knows exactly what they're doing.
A professional HVAC technician can also walk you through all of the options that are available today for your air conditioning needs. Perhaps a different type of system would be better for your family and your home. We have the expertise to guide you into making the best purchase for your home and maximizing your dollar when it comes to a new AC installation.
2. Improve Efficiency and Longevity
When it comes to a new air conditioner installation, there are a lot of things that can go wrong. Nuts, bolts, seals, vents, and electrical connections all need to be in the correct place. If a mistake is made at any point along the way, it's going to affect your new AC's efficiency. That'll put more strain on it right from the get-go.
3. Professional Installation Is Guaranteed
If anything goes wrong during an amateur installation, you'll be responsible for any damages it incurs. Professionals are licensed, bonded, and insured. You'll be protected by a warranty but only if it's installed by a professional. If your new AC isn't working correctly, you'll rest assured knowing that it's covered by the warranty. Our services are backed by a 100% satisfaction guarantee.
Why You Should Choose Us
The team at Hometown Heating and Air Conditioning has been installing air conditioners since 2012. All our technicians are NATE-certified and EPA-certified. That means we're always looking for the solution that best benefits you and the environment. Don't settle for amateur service: contact us today to learn more about how we can help with your installation and replacement needs.
Hometown Heating and Air Conditioning is your trusted resource for air conditioning services. Reach out to us today! Your comfort is our business.