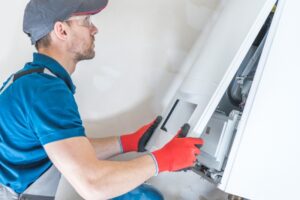 As spring begins and the weather starts to warm up, it's easy to let our heating system needs fall to the wayside. Whether you've been hearing strange noises or your furnace just doesn't seem to be heating your household as efficiently as it once did, these problems can be frustrating–but are they necessary to address right away?
Well, they can be. Sometimes, these symptoms indicate that something is wrong with both of your HVAC systems, not just your furnace. For instance, you can have a problem with the thermostat or the ductwork of your home. In this case, your cooling system efficacy and efficiency will be impacted.
This said, no, you shouldn't "just wait" to have your furnace serviced if you notice troubling symptoms. Read on as we uncover what some of the most common end-of-season heating repairs are.