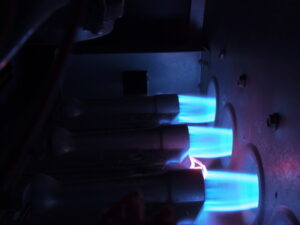 Are you one of the many homeowners in our area utilizing a gas-powered heater for your home comfort in the fall and winter? If you are, then this blog post is for you!
Gas-powered heating systems, specifically furnaces, are the most common type of residential heating system used throughout the country, and for good reason. They're powerful, effective, and when properly installed and cared for, very efficient. They produce a large amount of heat and do so at less expense than their electric heater counterparts, since natural gas costs much less.
However, while not inherently harmful, any natural gas appliance has the potential to develop safety issues. This isn't said to alarm you—after all, today's furnaces are built with homeowners safety in mind and have features to shut themselves off if they overheat. But something like a cracked heat exchanger, no matter how small the crack is, can lead to harmful CO exposure in your living space.
What Is a Heat Exchanger?
This component is essentially what enables your furnace to heat up the air that travels through its ventilation system. When the burners of your heater come on, they generate hot combustion gas, which is collected inside the heat exchanger. That heat exchanger is a metal chamber or series of clam-shell shaped metal chambers.
The hot combustion gasses inside the heat exchanger heat up the metal walls, and then the blower fan of your furnace comes on to send air around the exchanger. The air picks up the heat and continues through your ductwork. Throughout this whole process, the combustion gas is safely contained and then expelled through a flue—unless it's cracked.
The Cracked Heat Exchanger
When the heat exchangers heat up and cool down, the metal expands and contracts. In an aging heater, this can lead to cracks, and those cracks can be microscopic in nature. In other words, they can be invisible to the naked eye. But when the heat comes back on, it causes the cracks to widen and let out gasses.
Therefore, combustion gasses are able to escape and enter your living space, where it can make you and your family ill. In severe cases, CO exposure leads to fatalities.
"How Do I Know If I Have a Cracked Heat Exchanger?"
This is something we'll check for during your annual maintenance, but it's never a bad idea to watch and listen for signs, too. A big sign is if you hear a clicking sound coming from the furnace soon after the blower shuts off.
Now, we say this with caution—if you've always heard a clicking or slight rattling noise from your furnace and you've had the heat exchanger checked, what you might be hearing is your ductwork fluctuating with the temperature changes. But if you hear a new clicking, or the clicking becomes louder, it's time to give us a call.
Another sign is that you see signs of corrosion anywhere on your furnace. If there's corrosion on the outside there may very well be corrosion on the inside. This means your heat exchangers are at risk. It may be time to speak to our pros about a complete system upgrade in this case.
For expert heating repair in Pleasanton, CA contact Hometown Heating and Air Conditioning. Your comfort is our business!