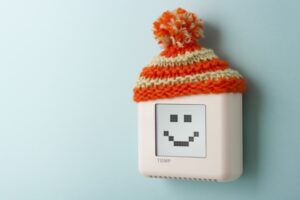 Every homeowner has a list of upgrades they'd like to make to their homes someday. If upgrading to a smart thermostat isn't on your list of home improvement projects, here's why you should add it to your list–and bump up its priority! Smart Wi-Fi thermostat installation is an affordable upgrade with benefits you'll use on a daily basis to increase your home comfort.
What Is a Smart Thermostat?
A smart thermostat is a Wi-Fi enabled device that automatically adjusts your home's temperature settings with optimal performance in mind. It's connected to your HVAC system to allow communication with the thermostat control. You can manually change the smart thermostat but the main benefit is being able to control it by using an app that is downloaded to your smartphone, computer, or tablet.
Smart thermostats are highly appealing because you can control your HVAC system from anywhere. They'll improve energy usage in your home, decrease your energy bills, and make the management of heating and cooling your home simple and easy. Here are the benefits of smart thermostats.
Easy to Use
Smart thermostats are remarkably simple for anyone to use with user-friendly apps. They're easy to set up and program and feature modern touch screens and intuitive layouts. If you've ever tried to program a traditional thermostat for when you'll be on vacation, you know how frustrating it can be. A smart thermostat makes it easy to create cooling and heating programs based on your personal preferences.
Remote Access from Anywhere
Here are some scenarios where remote access comes in handy. Imagine you're on the way to the airport when you realize you forgot to turn the thermostat down for your vacation. You can turn it down without having to turn around and go back home.
Or imagine it's Sunday morning and you're feeling particularly lazy. You decide you want to turn the heat up but you don't want to get out of bed. So long as your smartphone is handy, you can turn it up. Smart thermostats provide an unparalleled level of convenience and flexibility that is highly appealing.
Why Its Technology Is Really "Smart"
Smart thermostats use smart technology that learns your personal preferences regarding the temperature of your home and then adapts accordingly. One way it does this is through geofencing.
This technology creates a virtual boundary around your home. When you leave your home, the smart thermostat tells your system to turn off. When you're headed home, it'll prompt your HVAC to turn on and bring your home to your ideal temperature before you arrive. Geofencing reduces your energy bills by eliminating unnecessary heating and cooling.
Leave Smart Thermostat Installation to the Professionals
Before you start looking for a deal on smart thermostats, it's important to know that it takes a professional to choose and install the best thermostat for your home. Only trained and certified HVAC technicians have the experience required to find the right thermostat that matches your existing HVAC system–and to ensure its proper installation.
For the professional installation of a WI-Fi thermostat in Concord, CA, look no further than Hometown Heating and Air Conditioning. Contact us today! Your comfort is our business.