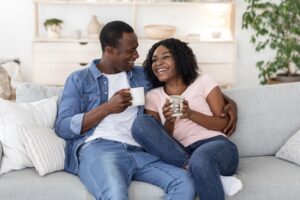 If there's anything that the experience our country has had with COVID-19 has taught us, it's the importance of keeping a healthy home. While there are no products on the market that can 100% guarantee to reduce the risk of this kind of virus transmission (and we urge you to follow guidelines set forth by the CDC), there are certainly steps you can take to improve the overall health of your indoor environment.
One way to achieve a healthier home is with the installation of whole-home indoor air quality systems, and other indoor air quality solutions. Even pre-pandemic, Americans spent about 70% of their time inside their homes—don't you want to make sure that the air you and your family are breathing is as healthy as possible? You can! With a whole-house air purifier, which is just one of the many types of IAQ products we install and service.
Whole-Home Air Purification
Even before COVID-19 came onto the scene, homeowners sought ways to breathe the best quality air possible. This can be reason enough to look into whole-home air purification. You can also watch for these signs, that definitely indicate this will benefit you:
Mildew and mold growth
Dirty air ducts
Smelly or stale and stuffy air
Visible dust and particles floating in your air
Allergy symptom flare-ups among family members
The best way to find out for sure if whole-house air purification will benefit your specific home is to contact our technicians for professional guidance.
In the meantime, sure, you could buy small, portable air purifier units to use around your household. They will have some impact on the indoor air quality, at the very least. However, to achieve the best results, you should definitely look into a whole-home solution. Read on to learn two of the biggest benefits of doing so:
Whole-House Air Purifiers are Cost-Effective
Those small, portable air purifiers that you can buy online or at any big box store can definitely handle a room—maybe even a small studio apartment. But why invest in multiple systems to put in various areas around your home when a whole-home air purifier can be installed directly into your ductwork, and can address the entire house?
This definitely makes for a more cost-efficient option than getting several portable systems. It also saves space!
The clean air you'll get from a whole-house air purifier also means you won't have to change out your standard HVAC air filter as much. These air filters aren't designed to protect your indoor air, but if they get too clogged up they can certainly hurt your indoor air quality.
Whole-House Air Purifiers are Convenient
Again, a whole-house air purifier can be integrated right into your HVAC system and/or its ductwork. This means you won't have to worry about space being taken up by smaller units. You also don't need to worry about the noise associated with all those various systems. In addition, you'll have uniform indoor air quality throughout your home 24/7. Lastly, while a whole-house air purifier can't help you manage severe mold infestations, it can help you from having one occur to begin with.
For professional help with your indoor air quality in Concord, CA, contact Hometown Heating & Air Conditioning today!