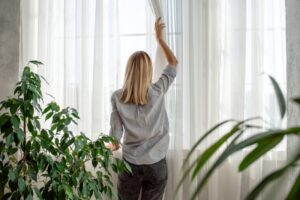 When it comes to having a home comfort system installed in your home, naturally your budget is likely the first thing you think about. Not every homeowner is going to prioritize a whole-home indoor air quality product.
But if you have the option to, you really could benefit from such an installation! Especially in the case of air purifiers.
Sure, portable air purifiers can help a bit, but they are not a comprehensive solution to the problem of contaminants in the air throughout your entire home. A portable system is good for a room or too, and even then some air purifiers really only help with nothing more than dust and pet hair. Whole-home air purification is the way to go if you also want to tackle other common allergens, and even viruses. Read on to learn more!
The Power of Whole-Home Air Purification
Look, a portable air purifier isn't a bad idea… it's just that whole-home air purification is better! Portable systems are a great first step when you're trying to make your home cleaner and healthier. They're also great if you have a guest room and want to make sure visitors are as comfortable as possible.
But what you'll really benefit from is an air purifier that tackles the entire living space, and here's how:
Whole-House Systems are Strategically Placed
Whole-house air purifiers are installed directly into your ductwork, which is great because:
They're out of sight! You want your home to be as aesthetically pleasing as possible, right? Portable systems placed around the home take up valuable space in your home and don't look that great either.
They treat all of the incoming air from your HVAC systems. All of the air in your home gets conditioned or heated by your HVAC systems. This means that all the air going through your ductwork gets purified, which is a great approach when trying to improve the health and comfort of your home, not to mention HVAC efficiency.
There Are Different Types of Air Purifiers
You may find that you benefit from more than one type, or that you really need one over the other.
There are electronic and ionization air purifiers, both of which are designed to pull contaminants right out of the air. This can include dust, pet dander, pollen, household cleaning products, VOCs (volatile organic compounds) and with a HEPA filter, even viruses.
And then there is the UV air purifier. This uses UV radiation through germicidal lights to rid your ductwork of harmful bacteria, viruses, mold, and mildew. These substances thrive in the cool, damp environment of your ductwork, but a UV air purifier can prevent them from even developing, let alone making it into your indoor air.
UV air purifiers and electronic air purifiers can be installed independently or you may find that you need both. If your home doesn't get a lot of natural sunlight, the increased humidity can cause bacteria build-up, and if this is the case you could very likely benefit from the UV air purifier! And just about any home benefits from an electronic or ionization air purifier.
To schedule the installation of a whole-house air purifier in Orinda, CA, contact Hometown Heating & Air Conditioning today!