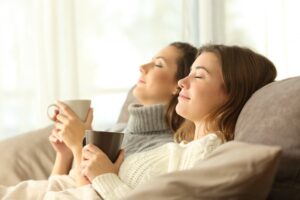 You've probably heard a lot about air purifiers in this past year. With the Coronavirus, it's become a bit of a buzzword. Air purifiers are highly effective at eliminating viruses, and while none can completely eliminate the risk of virus transmission, there have been laboratory tests done showing that some air purifiers, such as UV air purifiers, can significantly reduce the risk of COVID transmission.
And air purifiers are not just to protect against virus transmission. They also reduce allergens, which is great news for anyone in your household who suffers from allergies or asthma.
There are a variety of factors that can impact your indoor air quality, and there are also a variety of air purification options to help resolve IAQ problems. Which one is best? Well, there are a lot to sift through! There are different types of air purifiers out there, like the UV air purifier we mentioned above, or electronic and ionic air purifiers. Which is best for your home? Read on for help determining this!
First, What's Air Purification?
Air purifiers were designed to clean the air circulating through homes due to heating and cooling system use. Instead of using a fiber mesh to trap pollutants and contaminants like air filters do, an air purifier draws particles from the air.
There are two common types of air purifiers, the electronic and the ionization type. They work by charging unwanted pollutants and drawing them down into the system, where they can be cleaned off by the homeowner later.
Another type of air purifier that's increasing in popularity is the UV air purifier. You see, the previously mentioned air purifiers are great for drawing particles out of the air that are already present in the air. But what about where some of those particles come from? Bacteria, viruses, and mold and mildew can live inside your ductwork, breaking off and entering your indoor air when you go to use your HVAC system.
UV air purifiers, also called UV lights, tackle particles inside the ductwork before they ever have a chance to enter your air. They use radiation to kill microorganisms that live within your ducts and can make you sick.
Is UV Air Purification Dangerous?
We totally understand this question, it's a logical one! But no, this type of UV radiation is not harmful to people or pets. The level used doesn't create any health concerns for your household, but it's deadly to single-celled organisms that can make you sick!
It's important to keep in mind that just like with any other indoor air quality product, the installation of your air purifier—no matter what type(s) you choose—should be completed by a trained and experienced professional. Our technicians will be able to make recommendations based on your home's specific needs, and you may find that you benefit from a combination of indoor air quality solutions!
When you're ready to install a whole-house air purifier in Brentwood, CA, contact Hometown Heating & Air Conditioning.